The annual User Conference plenary sessions every year are an opportunity for Esri to showcase new functionality and software from its ArcGIS software ecosystem. While pandemic conditions this year presented a unique and virtual twist, the plenary sessions helmed by Jack Dangermond did not disappoint. The theme of this year's Esri UC was GIS: Interconnecting our world. Esri's focus, as explained by Jack Dangermond, is to develop tools and technology to help users organize and integrate knowledge to understand a dynamic world.
While the company's centerpiece software is ArcGIS Pro, the company also has been focused on building geo-enabled platforms. These platforms are downsized GIS tools that offer mapping and location services aimed towards users outside of the immediate GIS professional realm. As standalone systems, these products contain components of GIS that are streamlined towards organizations that do specialized work such as urban planning or indoor management. All of the components of Esri's ArcGIS software ecosystem, both desktop and cloud-based, support three fundamental systems: record keeping, insight (or analytics), and engagement (apps and maps).
The first two plenary sessions contained a lot of demonstrations by Esri staff featuring the new tools and applications launching this year. For those that work with software and tools from Esri's ArcGIS ecosystem, the plenary sessions from Esri is always an informative launching point for understanding new advances and uses of the company's geospatial tools. You can access all of the Esri UC 2020 plenary videos via the Esri Events' YouTube Channel. Here is a small sampling of what was presented.
ArcGIS Map Viewer
Esri's new ArcGIS Map Viewer has a planned Fall 2020 launch. Map viewers are designed to provide quick and easy access to view and explore GIS datasets. This next generation offering from Esri is available to ArcGIS Online users via the App launcher. Currently in beta, Map Viewer incorporates Smart Mapping to suggest symbology and color gradients to help users explore the best stylizing for their maps. Visual updates rapidly show up in the map frame of the interface. For example, users can switch quickly from choropleth to dot density maps when symbolizing polygon data. Clustering lets users aggregate point data for more clarity. You can see the presentation of these and other new ArcGIS Map Viewer capabilities from Esri's Madeline Schueren:
ArcGIS Pro Enhancements
ArcGIS Pro is Esri's flagship software. A large chunk of the plenary demonstrations featured new tools, extensions, and capabilities users can expect to see in the upcoming 2.6 release of ArcGIS Pro by Esri. You can see a roundup of six new capabilities in the video below. This includes the Add Graphics Layer tool which lets user quickly add text, shapes, and imagery without have to create a new feature layer. The Least Squares Adjustment tool lets users run a consistency check that visualizes inconsistent measurements to help with data quality checks when developing a GIS data layer from a scanned plat map. An accuracy heat map lets users view an overview of the positional uncertainty of cadastral datasets.
Esri also debuted Colocation Analysis. This tool lets users find relationships between two geographic layers in space and time. In the presentation example, Esri's Ankita Bakshi showed how user can set parameters such as distance band and time period to find statistically significant relationships between broken street lights and traffic accidents.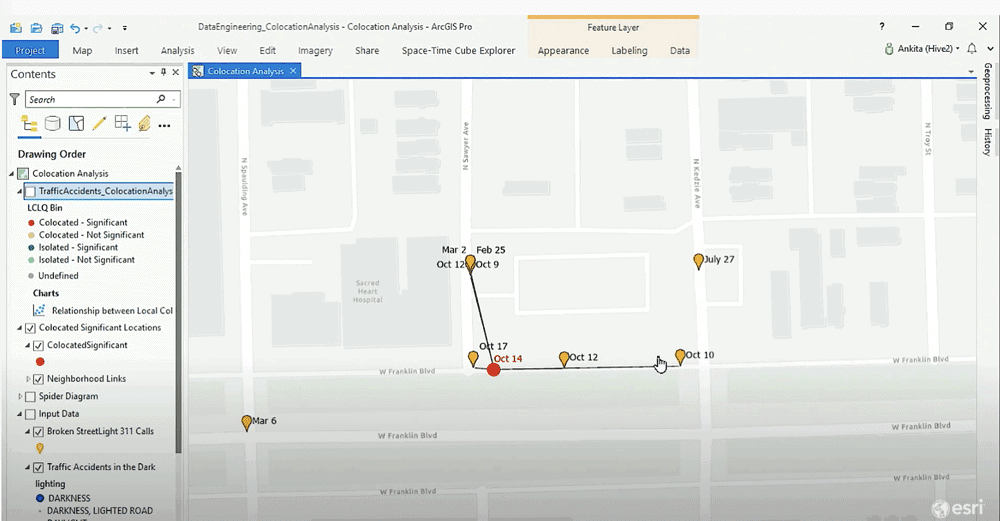 ArcGIS Pro – Six New Capabilities
Watch demonstrations of all of the ArcGIS Pro updates:
Voxel Layers: Viewing 3D Layers in Time and Space
Esri also showcased its new Voxel layers functionality. Voxel layers are 3D cubes that give users the capability to explore multi-dimensional phenomenon in both space and time.
Working with Drones: Site Scan for ArcGIS
A new drone-focused product from Esri demonstrated during the plenary was Site Scan for ArcGIS. This product lets users plan drone flights, image processing, and analysis from that imagery.
ArcGIS and Jupyter Notebooks
Esri has also advanced its integration with Jupyter Notebooks both with its ArcGIS Pro software as well as a planned release of an extension that will provide integration with ArcGIS Online.
Check out the Rest of the Plenary Videos
The plenary session touched on a lot of new releases coming from Esri in the areas of indoor mapping, IoT, integrating machine learning and artificial intelligence with GIS, and field mapping as well as ArcGIS Pro for Enterprise with Kubernetes. Check out all the enhancements from the 2020 Esri UC Plenary Sessions.